Just a stones throw away from the now iconic, Olympic Park in London's East End lays one of London's hidden gems, an area once scarred by heavy industrial use and Second World War bombing. At just six miles from Central London, Tottenham Marshes has seen radical re-development in the last 40 years, seeing a slow but vital transformation from damaged landscape to green lung for London and playground for Londoners.
The history of Tottenham Marshes is fascinating with the area having been used as a vital food supply in the First World War when food shortages were at a critical level; potatoes were grown en masse and then widely distributed to those living locally to help them survive in straightened times. In recent years the waterways around the Marshes have seen dramatic improvements to recreate the natural environment and establish new areas for plants to grow and fish to take cover.
Glorious grasses have also been preserved in this area to ensure the protection and longevity of plants and animals indigenous to the site. Overtime grasslands naturally revert to scrub and then woodland if left unmanaged, and for conservation reasons trees here are now removed to maintain a natural meadow environment, encouraging the natural flora and fauna to flourish. Since its transformation, Tottenham Marshes has seen a massive increase in visitors to the area and also its exotic flora and fauna. Thanks to the years of dedicated hard work by teams of volunteers and rangers, the site is now seeing nature's magic take over and is teeming with Bee Orchid, Tufted Vetch and the stunning Cuckoo Flower.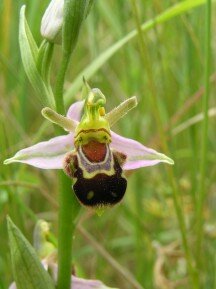 Just across the water and tucked behind an imposing, busy London thoroughfare, are Walthamstow Marshes; a wonderful riverside nature reserve and a designated Site of Special Scientific Interest. The site offers wonders beyond the urban imagination. With a circular route exploring the wildlife and heritage of this spectacular nature reserve, there are dragonflies and butterflies, spiders and beetles, plus weasel and grass snakes all hiding in the wonderful meadows and urban undergrowth. The site is well used by visitors and has creative pathways that make it great for a relaxing walk to get away from the urban landscape surrounding the area. Bridleways and cycle paths also cross the site, making horse riding and cycling popular pursuits in this industrial area. The site boasts diverse flora and fauna which includes one of Britain's rarest plants, Creeping Marshwort. As one of three nature reserves along the busy Lee Bridge Road, this is the urban nature enthusiasts' heaven!
For more information on East London's marshes and other green spaces visit the Lee Valley Park Nature Reserves website.
Guest post by Victoria Kington, Senior Communications Officer at Lee Valley Park.