BT River of Music's Saxophone Massive at Somerset House, London. Copyright © Anthony Upton.
One of the highlights of the London 2012 Festival, BT River of Music is a weekend of spectacular performances on Saturday 21 and Sunday 22 July, representing all 205 Olympic & Paralympic nations at landmark sites along the River Thames.
One of these iconic sites – Somerset House – will play host to British saxophonist Andy Sheppard and 200 saxophonists from all corners of Europe, who'll come together in the stunning courtyard to perform one of Andy's original compositions. We grabbed five minutes with Andy to talk through his thoughts and inspirations…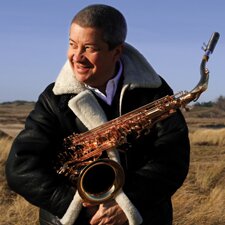 1. Why are you excited about Somerset House as a location?
It's an astonishing and beautiful place. I also think the acoustic is going to create a really  interesting sound.
2. What main inspirations fed out of Somerset House and into your soundscape?
So many things! The bell that rings out, the Naval history of Somerset House and particularly the sound of the courtyard fountains. Olympic sports such as rowing, swimming and tennis were among other inspirations.
3. Can you imagine what the atmosphere is going to be like?
The sense of anticipation from all these people is going to be incredible. Within the soundscape, there are sounds of sporting crowds, timers, and heartbeats, which will all set the scene. It almost has an element of humour to it; the irony as it echoes the thousands of people who will all be ready to get set for the Olympics…and BT River of Music!
4. For this edition of Saxophone Massive, you're aiming to work with someone from every European country?  How is that going?
It's no mean feat to find someone from all 49 European countries, in particular the small independent states such as Monaco and Andorra! It is such a wonderful idea though, a big happy saxophone family. What's really great in this case, is that you don't need to all speak the same language or live in the same place. It's what so brilliant about the whole theme of the Olympics; the dreams of bringing people together and sharing a global experience.
Click here to listen to Andy Sheppard's soundscape.
(If you play the saxophone – amateur, beginner or teacher – and are interested in participating, please contact )
Post by the Serious team.